Any parent of a primary school-age child will know all too well that headlice are a common problem. Of course, no pharmacist is immune from the effects of headlice either, as each September sees pharmacies fill up with despairing parents and head-scratching children seeking advice and treatments.
These tiny insects – which are about the size of a sesame seed – thrive in the humidity created by sweat on the human head. They feed on blood from the scalp and attach their eggs – known as 'nits' – close to the skin. The tenacious creatures cling so tightly to hair that they can survive a thorough wash. Even worse for all affected, they reproduce and can spread very quickly.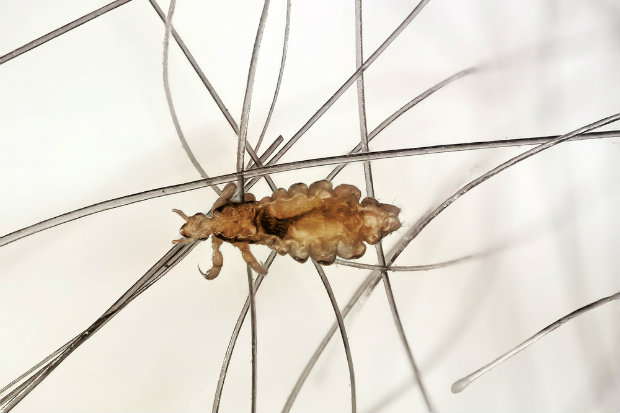 While this is bad news for families with young children, it is good news for the community pharmacy sector, as headlice treatments are enjoying a boost in sales. According to Kantar Worldpanel, the total market in the UK for headlice products in 2016 is £18.7 million, up 55% on last year. Of those sales, pharmacies account for 45%, with supermarkets making up 51%.
"Both channels are experiencing strong growth," says the consumer analyst firm.
Potential market
Pharmacies have the potential to corner a greater share of this market. Lauren Feltham, strategic insight director at Kantar Worldpanel, points
out that pharmacies offer more convenience "versus a big store or an online shop, which many families do not visit".
Pharmacies also have an advantage over the local supermarkets when it comes to offering customers trusted advice on which product to buy, says Emma Smith, head of retail over-the-counter and marketing at Well.
"We have witnessed a steady rise within the headlice category over the past six months," she says. "Speaking to our customers, we recognised a need to simplify our product offering by selecting a handful of key products – highly recommended by our expert pharmacists – making it easier for them to purchase exactly what they need to solve this common [problem]."
There may be an opportunity for further sales of these products by being savvy about where they are placed in the pharmacy. Manufacturer Thornton & Ross, which produces headlice treatment Hedrin, points out on the range's website that "some parents can be embarrassed about asking for products or advice". Therefore, the manufacturer suggests: "If there's an opportunity for dual siting of these products – in front of the counter as well as behind – this may help."
What's on offer?
According to Kantar Worldpanel, the top three brands for treating headlice – Hedrin, Full Marks and Lyclear – account for 75% of all sales in this category. Headlice can be treated with lotions and sprays, or by applying normal conditioner to the hair and meticulously combing out the eggs using a special fine-toothed comb. "The combs sell well," says Nada Baki, superintendent pharmacist at the Hub Pharmacy. "It's a good method of detecting if there are any headlice."
Lyclear's range – from Omega Pharma – offers consumers a choice between products containing insecticides and those without. The non-insecticide treatments do not use chemicals to kill headlice, but suffocate and dehydrate the lice and their eggs.
The Hedrin range also includes a non-insecticide treatment – Hedrin 4% Lotion – which works by rupturing or starving the lice.
So whether you are selling a recognised brand, or just the tools to help people manually remove headlice, how can your pharmacy do more to ensure it is growing its share of product sales?
Get prepared
Pharmacies should be mindful of the school calendar when preparing their product offering.
"You always get a spike of headlice sales in September when the kids start going back to school," says Mr Baki. This month presents the sector with its most significant chance to capitalise on a renewed interest in potential treatments.
Although headlice can be a perennial problem, Ms Feltham agrees that pharmacists should be aware of the "seasonality" in the headlice market, which centres around three key dates.
"We see increases in shoppers and spend around back-to-school times – [in] September, post-Christmas and post-Easter. Pharmacists should capitalise on these times, by driving awareness of treatments and offering advice."
No miracle cure
Your staff may already give excellent advice to customers, but Noel Wicks, chief executive of Right Medicine Pharmacy, an independent chain in central Scotland, asks whether your team are "managing expectations" about the effectiveness of the range of headlice treatments available.
"Parents' blame is commonly directed at products that fail to deliver against bold efficacy claims," Mr Wicks says. "However, most infestations develop and are passed on by families who don't even know they have headlice – which is why pharmacy staff should advise that everyone in the family needs to be treated. In addition, many people are unaware that all treatments need diligent application, and many require repeat treatment."
Unrealistic expectations may leave some customers unhappy with treatments they have tried in the past. Mr Wicks says this cynicism about products' claims is "the biggest challenge" that pharmacists face.
"Many people have tried treatments [that] have not worked. This may have been because of poor efficacy, poor compliance or lice resistance. [But] all the customer takes away from the experience is that it did not work.
"Coupled with comfort and convenience issues – such as delays before washing out, repeated applications and greasy formulations – many people are left feeling negative towards headlice treatments. Addressing these issues head-on, and giving advice on the importance of following usage instructions when customers consult with you, is the way forward."
Future developments
Pharmacy can look forward to even greater growth in the headlice category in future, Mr Wicks predicts. "There is, undoubtedly, a threat from the [supermarkets] – as in so many over-the-counter categories. But NHS-approved treatments, such as Vamousse [manufactured by TyraTech], which is included within the minor ailments service in Scotland, [will] help to maintain pharmacy's positioning as the first port of call for these products."
The Hedrin brand in particular is looking to expand its offering, and according to the Hub Pharmacy's Mr Baki, is "the product that he gives out the most". To celebrate the brand's 10th birthday, it is adding a new product to its range.
Hedrin's Stubborn Egg Loosening Lotion includes a lubricant oil that its manufacturer claims releases the chemical bond between the egg and the hair, thus enabling the egg to slide off. This product, which can be recommended by pharmacists as a post-treatment option to customers, can be sold along with a removal comb.
Whichever product or method parents choose to tackle the dreaded 'nits', pharmacists should be ready and waiting next month with a comprehensive stock range and practical advice.
As Mr Wicks puts it: "Through giving the best advice and reassurance about which products to choose, and the importance of using them correctly, pharmacy staff can ensure that customers keep coming back – even [when] it's not for more headlice treatment."
A pregnant woman has asked to speak to you about an embarrassing condition. After taking her to the consultation room, you realise she is concerned about headlice.
What should I do?
Leyla Hannbeck, NPA chief pharmacist
Firstly, you should ask about her symptoms. To confirm an infestation of headlice, a live louse must be found. These are brown or grey-white in colour and can be found on the scalp. Eggs tend to be located at the base of the neck or around the ears, but these alone do not indicate an active infestation. Some patients may experience an itchy scalp or a rash on their neck or behind their ears, caused by an allergic reaction to lice faeces.
If live lice have not been detected already, you should advise the patient to confirm an infestation with detection combing. This can be done on either dry or wet hair, depending on her preference. Other members of her household and close contacts should also be checked for headlice.
If an infestation is confirmed, you should suggest a suitable treatment. For women who are pregnant, wet combing or treatment with dimeticone solution 4% (which is safe to use in pregnancy) should be recommended. The choice of treatment should depend on the patient's personal preference and whether or not they have used a particular product before.
When giving advice about treatment, it is important that you stress that all affected members of the household are treated at the same time as the patient. While wet combing removes lice physically, dimeticone works by coating the lice and killing them. If the patient decides to use wet combing, it is important that a nit comb is used and the combing is conducted four times over a two-week period. To confirm the treatment's success, she should also perform wet combing on day 17.
If the patient decides to use dimeticone, you should advise her to repeat the treatment after seven days, to prevent the growth of lice that survive the first treatment. Detection combing should be performed two or three days after the initial treatment, and then again after another seven days,
to confirm that the treatment has been successful.
Hedrin launches headlice treatment in time for school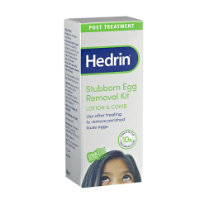 Headlice brand Hedrin has launched its Stubborn Egg Loosening Lotion, after recognising a major gap in the market, its manufacturer has said.
The new product helps to remove nits (lice eggs) from hair, which Hedrin claims makes it an "ideal post-treatment option".
The fragrance-free lotion works by chemically releasing bonds between the eggs and the hair, lifting the egg
and enabling it to slide off, manufacturer Thornton & Ross said.
The Stubborn Egg Removal Kit retails at £7.49 and the lotion alone is £4.99.
To order, contact Thornton & Ross on 01484 842217.
Lyclear's double action offering comes with free comb
Lyclear's headlice shampoo makes it easy to get rid of the insects, the manufacturer has claimed.
The double-action formula contains no pesticides, and not only suffocates, but also dehydrates, headlice and eggs.
The treatment comes in a convenient shampoo format, with a free comb included, the brand added.
Lyclear treatment shampoo and comb retail for £12.99.
To order, contact Perrigo on 0203 598 9601.